LED Capabilities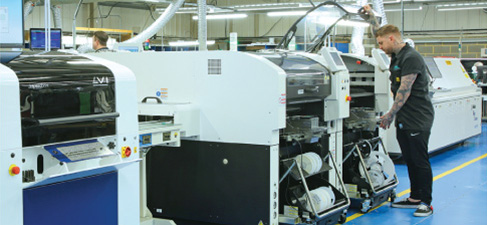 PLACEMENT
As a specialist LED manufacturer, we have a wealth of experience and expertise in the specific requirements of LED placement, the many different types, and a thorough understanding of the potential issues that can come with mishandling...
Consequently, we have invested in machinery which automatically adjusts to the height of the board, with bespoke 'intelligent' placement where required, to ensure that there's no damage to individual LEDs.
Likewise, we offer full BIN (Brightness Intensity) control, to ensure consistency both within individual boards and across a complete order, along with full traceability of all products manufactured, if required.
Despite the high quality and consistency of our placement service, there's no need to compromise on speed: we can place at a rate of 300,000 LEDs per day, per machine on a single shift.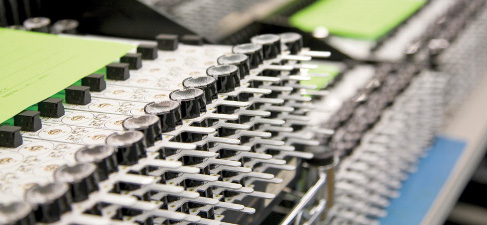 DE-Panel
Boards can be supplied in panels or as singles, depending on customer requirement, and we are equally comfortable separating standard FR4 fibreglass boards or MPCB metal-clad boards...
As with all stages of the manufacturing process, handling is key – which is why PSL take care to ensure that panels are only ever handled by fully trained operators, with gloves, in order to avoid any contamination of individual LEDs.
Only after completing the de-paneling process are the boards moved on to the testing stage.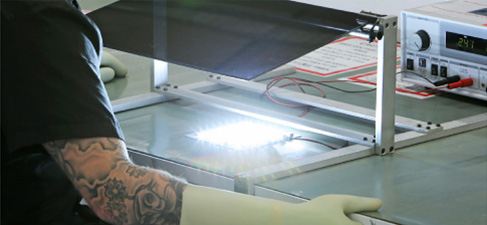 TEST
In line with PSL's policy of a total commitment to quality, unlike many of our competitors we don't simply do random testing of boards; we do 100% light-up testing of every single LED board before it leaves our facility…which explains the astonishingly low level of returns we receive...
If our client specifications require it, we can also offer more in-depth testing, including mains testing and current checking, in order to confirm a high quality and consistent performance.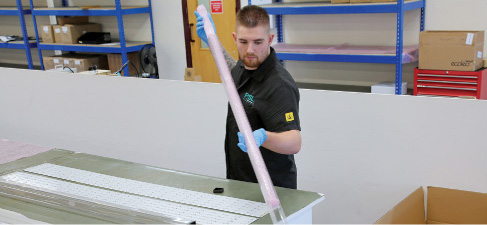 Final Assembly
In many instances, assembly of the board is only part of the process. For many of our customers we also amalgamate the PCB assembly into higher levels of product. This may include wiring, cabling and mechanical assembly; the service for any and all of which we can and do provide...
Our ability to optimize this important part of the manufacturing process is due to our understanding of the finished product and, in turn, the end user.
As part of the materials management process, PSL can supply ancilliary items such as cables, manuals and packaging to enable direct shipment from our facility to Point of Sale.
Each LED and each board is different, so we will work closely with our customers in order to design and deliver bespoke packing solutions to perfectly suit the product.
In many instances, assembly of the board is only part of the process. For many of our customers we also amalgamate the PCB assembly into higher levels of product.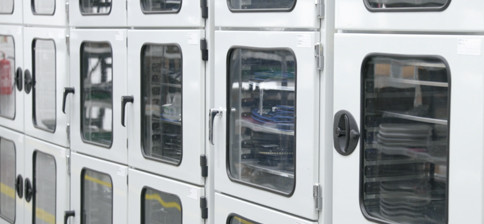 Controlled Storage
At PSL we have a 10,000 sq ft bonded storage facility, complete with all the processes required by cutting edge Electronic Assembly....
We have a moisture control area to cope with the millions of customer-supplied LEDs awaiting assembly. We also have baking ovens and a vacuum sealer for any moisture sensitive devices. Our stores personnel are fully trained in component moisture sensitivity levels and keep records of time and temperatures of the components stored, if required.
Understanding the problems that may occur to components, and having adequate procedures in place to stop them happening, results in very high levels of first time pass rates on products tested at PSL or by the end customer.
All material is booked in using the customer-supplied BOM and any issues are passed on to the production manager where they can be resolved very quickly. This ensures the end customer always gets the quality products that they are expecting. Any shortages are identified and a shortage log is generated. This enables the production manager to liaise with the supplier or customer and to keep them updated on the production of their builds.
Free issued material is also controlled in this facility and customers are given their own locations, where the stock is controlled by the use of our cloud-based system. This allows remote access to the stock levels by the customer. Also, any returned kits are booked out and a record kept of the quantities returned to the customer.
We are very conscious of the costs of materials, and do all we can to make sure that once the material is here it is stored and handled within the correct parameters for the type of component that is to be stored.
We want to work with you
Let's Talk...